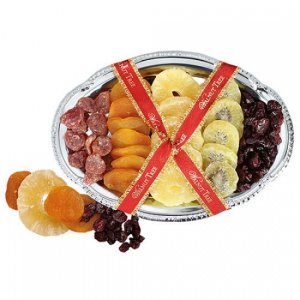 Silver Dried Fruit Tray
Silver Dried Fruit Tray

Exotic dried fruit for the erotic … For those who are passionate about dried fruit.

This tray is perfect to hand round when you're entertaining or want to give someone a tantalising array of posh nosh. Dried orange is a rare find. We were determined to source it for you and we have. It's hand packed in this delicate oval, silver coloured tray where it keeps good company with the adorable dried strawberries, tangy pineapple rings, succulent apricot and sweet and sour cranberry.

WEIGHT: 300grams

Due to seasonal changes contents might vary.
£11.99